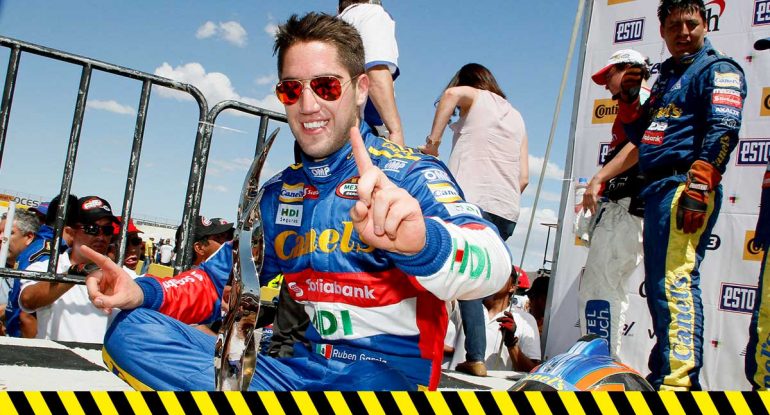 Garcia to Attempt Race Series Trifecta, with the announcement of the NWES World Driver Exchange Program
Concord, NC (March 28, 2019) – Ruben Garcia Jr. finished out the 2018 season with two wins in the K&N Pro Series East (NKNPSE) and earned his second NASCAR Peak Mexico Series Championship. García, has played double duty running in both series for multiple years, and will now add a third series to his roster in the next coming month.
The NASCAR Whelen Euro Series (NWES) and the NASCAR Peak Mexico Series (NPMS) announced yesterday a new exciting Driver Exchange program that will swap drivers in the two NASCAR International Series for one race each. Garcia will take part in the NWES season opener at Valencia on April 13-14, while the 2019 Euro NASCAR Champion will enter the NPMS finale at Mexico City on November 30 – December 1.
The next three weeks will push Garcia to compete in 3 series and in 3 countries.
His race series trifecta will kick off this weekend with the season opener of the NPMS in Monterrey, Mexico. Garcia will then head to Bristol Motor Speedway, with Rev Racing, for the second race of the NKNPSE schedule. His European debut will close out the trifecta, racing in the NWES in the ELITE 1 Division behind the wheel of the #1 Alex Caffi Motorsport Toyota.
"I am really excited about the opportunity to run 3 different NASCAR series in 3 different countries, back-to-back-to-back," said Ruben Garcia Jr. "I was always excited to get a try at the Euro NASCAR Series and finally the opportunity presented itself. This year, I am ready to win my third Championship in the Mexico Series and my first in the NASCAR K&N Pro Series East. I can't wait to see what the next three weeks will bring."
Garcia continues to look for meaningful opportunities to test his skills against his competitors in these different series. More seat time, means more exposure. Garcia is also working on running some NASCAR Xfinity Series races later in the season.